I posted yesterday about the FREE $15 Credit with $30 purchase that you can receive at One King's Lane, but I wanted to remind you that it is still available and they still have a great selection on Melissa & Doug Toys!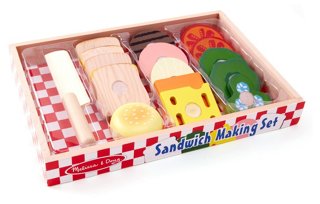 Reader Bonnie let me know that she was able to get several Melissa & Doug Toys for her son for $10 cheaper than she could even find on Amazon--and that was with her shipping! The $15 credit can really go a long way and will help to make for some great Christmas gifts!
I also noticed that One King's Lane is having a HUGE sale today on Kitchen products. You will want to shop around to see what goodies you can find, but here are a few things that caught my eye.....
Cuisinart 4-cup Food Processor $49 (retail $90)
Lolli-Cake Pop Set, $15 (retail $30)
This adorable Microwave Smores' Maker with Recipes is $16 (retail $30)
GO HERE to sign up for One King's Lane and to get your FREE $15 credit to use towards your $30 or more purchase!
Email Article
Post a Comment
tagged
One King's Lane
Posted on
Tuesday, October 16, 2012 at 12:15PM